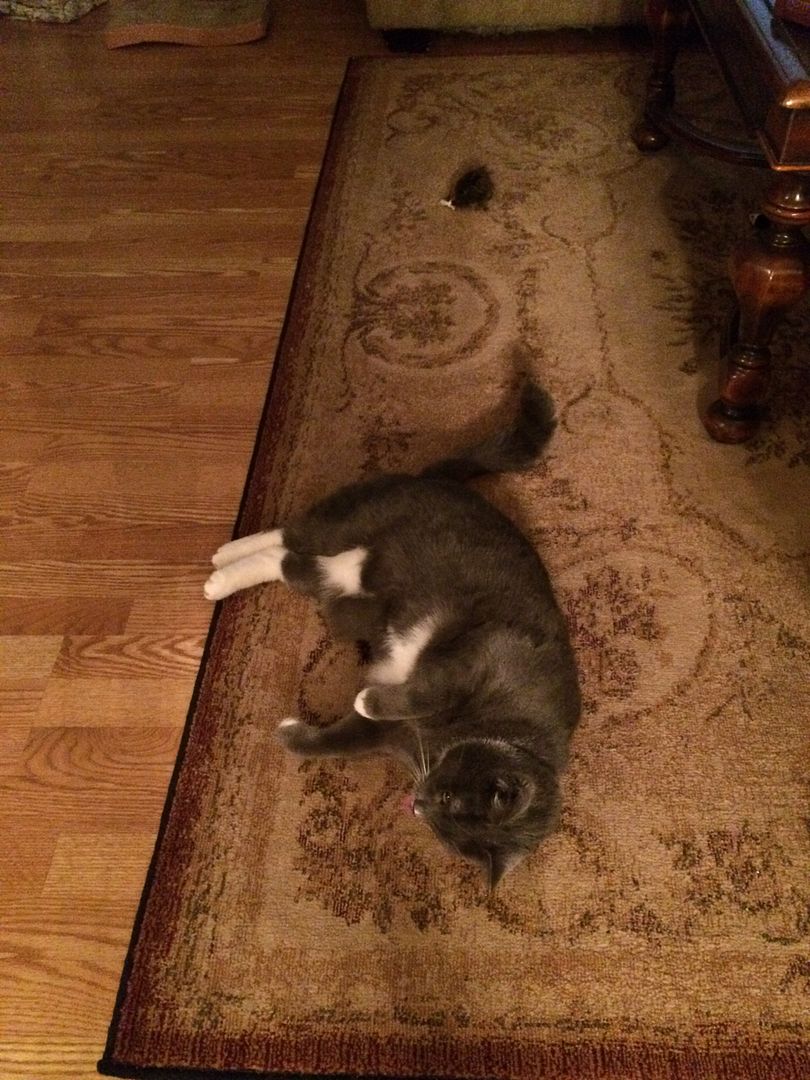 Minnie and Moe - Moe has been greeting me at the door and is very happy to be fed.  Minnie has wandered out to say hi too and eat.  For dinner last night, I got the cat nip boxes out... Moe was happy!!
Chester and Bailey - they are doing well.  I've been crating Bailey overnight but I noticed this morning (actually when she walked in the media room to check on her "work"), that she'd shredded a magazine.  Guess she got a little bored yesterday at some point!  Chester must've been sleeping and not keeping her busy. :)
Sparky - I put her back in the house each morning and I've been going over mid-morning to let her out for the afternoon.  It has been really cold every morning.  She's been zooming out the door first thing to race around the yard and see who visited her turf overnight.
Jay and Chloe - Crazy Jay doesn't care how cold it is outside, she still wants to chase her ball.  She is so excited to get out first thing in the morning, I always think she really needs to pee but no, she just wants to get to her ball.  Chloe still just wants me to pet her... so I do!
Butter, Sweet Pea and Lucky - Sweet Pea is eating better.  She ate well yesterday afternoon and this morning.  Both dogs are enjoying their walks.  They're doing lots of sniffing while we're out.
Simba - Silly little guy, first thing in the morning I'm always thinking all the dogs want to get outside for their potty break.  Not him, he goes straight for his food bowl.  :)
Max, Henry and Pepper - I didn't have any problems getting the dogs in their crates last night.  Max went right in.  I didn't see either him or Pepper pee though.  Henry did but I couldn't get the other two to go.  Max did poop in his crate overnight.  I got it cleaned out as best I could (it did get on his red cushion).  He couldn't get out of his crate so I fed him before he even got up.  I slid him out and then got a towel underneath his mid section to help him stand.  I moved his crate with cushion and blanket outside so he'd have that to lay in today  I will move it back inside tonight.
Chloe - she is enjoying her walks and sniffing around her yard.  I keep hoping we'll run into Steve but we haven't seen him yet.
Jasper - he is eating and using his box but I haven't seen him. :)
Scarlett and Oliver - I was thinking about your alarm and trying to remember where the key pad was when I opened the door.  Scarlett ran out as I opened the door and I had heart failure.  I grabbed a can of cat food, opened it and ran out on the porch and there she was.  She came right back in.  Yesterday I was VERY thankful for that easy and effective resolution.  I will be on the lookout for her today!!!
Baby - she followed me around yesterday as I fed her and scooped her box.