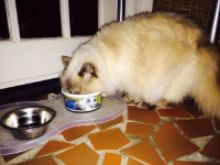 Maddie, Cotton and Rocky - I'm not sure if this is Maddie or Cotton b/c I can't see her face.  She was very happy about getting breakfast this morning!
Louie and Roxanne -  Louie and Roxanne might prefer that you buy crackers that they like.  Louie got into the pantry overnight and got into the box of crackers.  If it was a full box, he did eat some but there were some on the floor so I'm not sure they're his favorite.  I'm guessing not Roxanne's favorite either since there were some left. :)  They're fine. :)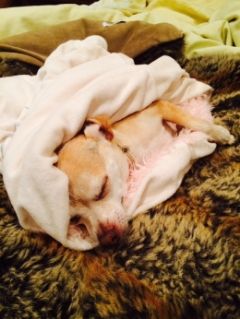 Sunny, Louis, Lola -They are all doing just fine.  Louis started whining around 3am so I let him outside.  He had diarrhea on the walk this morning so I gave him 1/2 a pill.  When I fed them this morning, he and Lola ate some.
Merlin, CiCi and Kitty - Merlin's tummy seems to be all cleared up (knock on wood.)  I did cut back on his food yesterday just in case but now it seems to be just fine!  CiCi even chased him around the tree in the yard last night.  They had me laughing.  Kitty is eating well too.  I fed her 2x yesterday and she ate most of it.